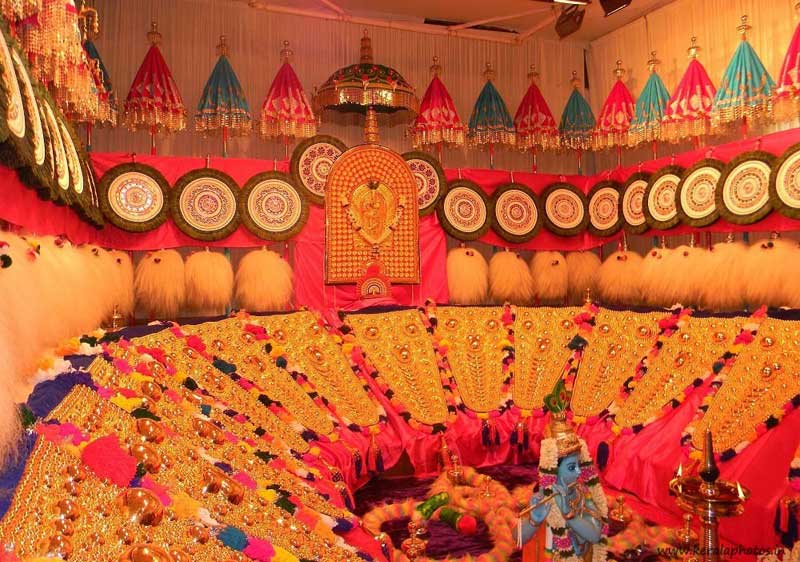 This picture is from Thrissur Pooram Chamayam Exhibition of Paramekkavu Temple team. Thrissur Pooram is called as "Poorams of all Poorams.
Aanachamayam – Thrissur Pooram
The Thrissur Pooram is festivals of festivals celebrated by the Hindu Malayalees in Kerala. This is a nine-day festival in summer month, which pulls international tourists too. Lakhs of devotees all over the Kerala state visit this festival, which has percussion, elephant procession, fireworks and temple rituals. The Aanachamayam exhibition is a must visit during the festival time to have a close look on the glittering ornaments, other arts and crafts meant for elephant procession. This renowned festival occurs annually in Vadakunadhan temple present in Thrissur District of Kerala state, India.
Importance of Annachamayam
Devotees and tourist mainly gather on the last day of Thrissur Pooram to see the Kudamatum. This is a temple elephant procession and skilled artist display their colorful skill from the top of these elephants. There are fourteen tusker elephants, which stands in a line and artists on the top of elephant do colorful displays according to percussion 'Chenda Melam'. These elephants are special on these days as they wear ornament (Annachamayam) or elephant accoutrements. They look colorful with unparallel traditional artwork. The Anachamayam is the honor delivered to these temple elephants. Lakhs of people take videos and photos of these majestic elephants with Anachamayam. This Kodamattum is nowhere practiced in this world and this practice is happening since the last three centuries in Thrissur as Thrissur Pooram.
Annachamayam Exhibition
The tusker's accoutrements are as precious as the elephant who wear it on the last ceremonial day of Thrissur Pooram festival. The elephant decorative and ornaments are handmade and look amazing in style and designs. The art work on metal and woods are unparallel. There are also feather art works, glittering fabrics and beading works everywhere on these elephant accouterments or Annachamayam. These are specially prepared by skilled artisans who are into family tradition. To have a closer glimpse of these Anachamayam, the temple board places them on Anachamayam exhibition for public view. Whomever coming to this festival never miss this exhibition, since the last day of the exhibition, they are put on to the giant tuskers for Kodamattum.
Arts and Crafts of Annachamayam
Nettippattam
Nettippattam or Elephant caparison is the main attraction on the elephant. This is gold plated stuff on brass metal with metal art and colorful fabric designs on it. The elephants are considered as Lord Ganesha and these Nettippattam miniatures from this temple festival bring fortune is a belief.
Venchamaram
Venchamaram is a hand held feathery item by artist standing on the elephant top. He displays like slow hanging fan and they look amazing when artist perform from fourteen elephants with the tone of Chenda melam.
Other Decorative Items
The Anachamayam includes floral garlands; hand held decorates for artists and elephant dress.
 How to Reach Thrissur
By Air
The Cochin International airport is 82km away from Thrissur. The Trivandrum international airport is 290 km away from Thrissur.
By Train
The Thrissur junction is the major railway station to alight for Thrissur Pooram.
By Road
Thrissur district has good road connectivity with rest of the place in India.