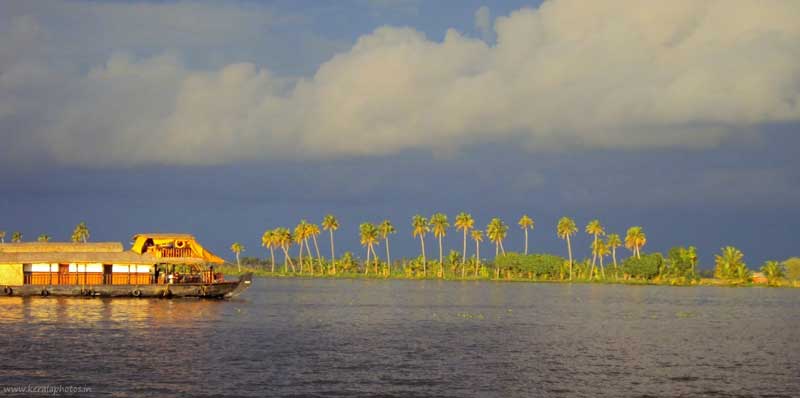 Kerala Tourism – Alapuzha
Alappuzha
Alappuzha is popularly known as "Venice of the East". It is a must visit district, in the state of Kerala, in south India.  It lies in the region of Central Travancore, north of Trivandrum and south of Kochi. It is at an elevation of 36ft or 11m. It is locally known as Alleppey. It is the Seventh largest city in the state. In this region, it is regarded as oldest planned city. Along the Laccadive Sea coast, Alappuzha's lighthouse is the initial of its kind on the long coast. It is a city that comes with lagoons, beaches, backwaters and canals.
History of Alappuzha
Lord Curzon, the Viceroy of the Indian Empire visited Alleppey during the initial decade of 20th century. He was really fascinated beauty and attraction of this place so he called it "the Venice of the East".  This place has mention regarding it and its rice cultivation in the Sangam age. The city had successful trade relationship with Romans and Greeks in the middle age. The Cheras mentioned this place as Kuttuvans in their classic work. On the other hand, Pliny and Ptolemy indicated this place as Purakkad or Barace in their works of classical nature. The historical significance of Alappuzha can be found in the rock-cut caves, old churches, ancient Hindu temples, etc.
Place to explore in Alapuzha
The annual Nehru Trophy Boat Race – On every year the 2nd Saturday of the month of August, it is conducted on the Punnamada Lake, very near Alappuzha. This is the most popular and competitive of the boat races held in India. A large number of domestic and foreign tourists witness this event with thrill and joy.
Backwaters – The Alappuzha's backwaters is the most sought after tourist destination in the world. There are many houseboat cruises that can be booked to stay and pleasure trips.
The Hindu temples that one must visit are Ambalappuzha Sri Krishna Temple, Mullakkal Temple, Mannarasala Temple, Haripad Sree Subrahmanya Swamy temple, Chettikulangara Devi Temple and Thakazhy Sree Dharma Sastha Temple.
The churches that one must visit are St. Andrew's Basilica, Edathua Church, Champakulam Valia Palli and Alappuzha CSI Christ Church.
Krishnapuram Palace Kalavam kodam temple where spiritual saint Sree Narayana Guru wholeheartedly installed Mirror is nearly 30 km north of Alappuzha Town.
Alappuzha beach – The long strip of silver sand beach is the right place for spending solid time with family members gazing the horizon and wide sea.
Lakes – this district is dotted with large lakes such as the Vembanad Lake, Venadu Lake, Madathil Lake, the Cherukara Kayal and Pallithanam Moovayiram Kayal, Cherukali Kayal, Aarupanku Kayal, Rama Rajapuram Kayal, Mathi Kayal, Pantharndu Panku kayal and many more.
How to reach Alapuzha
Alappuzha by road: The National Highway no: 66 (India) connecting Panvel with Kanyakumari and State Highways passes through Alappuzha. Good roads and regular bus services connect this city with rest of Kerala.
Alappuzha by Rail: Alappuzha Railway Station lies on the Ernakulam–Kayamkulam coastal railway line. There are many express and passenger trains that connects important cities within Kerala and rest of India.
Alappuzha by Air: The nearest air is located at Cochin International Airport that is 78 kilometers away from the city.