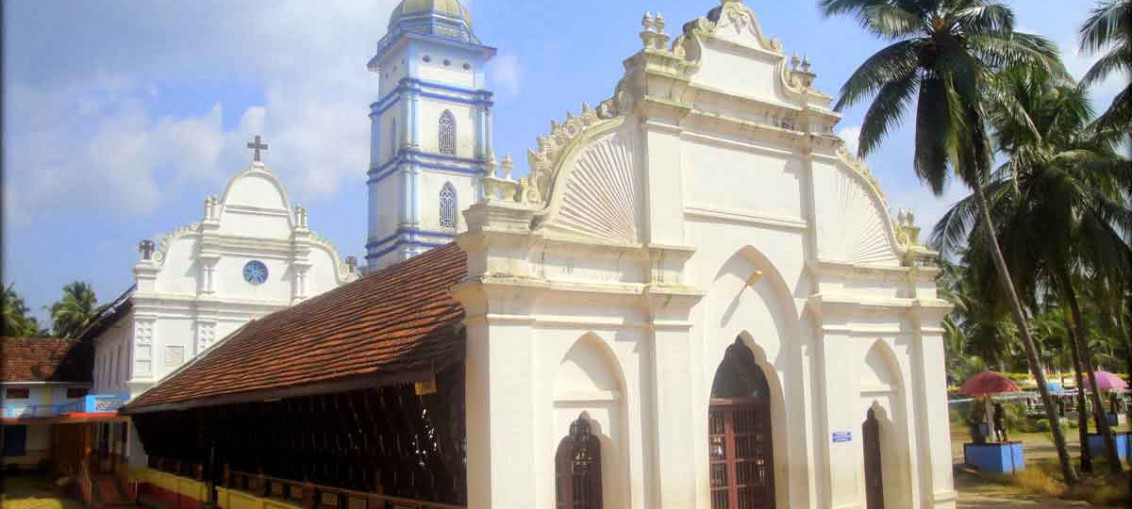 St. Thomas Church – Palayoor Church
Palayur St. Thomas Syro-Malabar Catholic Church is located at Palayur (Palayoor), in Thrissur district,Kerala. Palayur church was established in 52 AD by St Thomas, one of the twelve apostles of Jesus Christ. Palayoor church is the oldest Church in India and is called an Apostolic Church Palayoor church was part of the seven churches that St Thomas established in India. The other six churches were established at Cranganore, Quilon, Niranam, Kokkamangalam, Kottakavu and Chayal.
St Thomas Church Palayur
St Thomas Church Palayur is located in the small town of Palayur, in the Thrissur district, in Kerala, in Southern India. It is locally known as St. Thomas Syro-Malabar Catholic Church of Palayur. It is strongly believed to have established by St Thomas in 52 AD. It is to be remembered that St Thomas is one of the 12 apostles of Jesus Christ. This particular church is regarded as the oldest church within the nation. It is also credited as an Apostolic Church related to the Apostolate of St. Thomas. Among the seven churches established by Him, it is one of it and the other six churches are located at Chayal (Nilackal), Cranganore, Kottakkavu, Kokkamangalam, Kollam and Niranam. This church was built on the site of an abandoned Hindu temple. Therefore, its structure is Hindu temple style and pattern rightly blended with Persian church plan. In the 18thcentury, Tipu sultan invaded this region and set fire to the church. In the fire, the church was completely destroyed. It was later rebuilt at the same spot. It is a unique Church within India and rest of the world. This particular church occupies a special place in the hearts of the Christians because of many reasons.
History of Palayur St Thomas Church
As per the historians and local legend, St. Thomas arrived at Palayur, he immediately witnessed the significant sight of Hindu Brahmins offering prayers near a local tank by chanting mantras. He observed that they were offering water to Sun God but that water was falling back to the tank. He told them that their God isn't accepting their offering and challenged that His God would wholeheartedly accept His offering. He proved it in front of them. Therefore, many Jews and Hindu Brahmins converted to Christianity. Moreover, he baptized them in a nearby water tank. The converted Christians permanently stayed at Palayur but Non-converts shifted to Vembanad region.
Festivals of Palayoor St Thomas Church
In every year, an important festival is held for two days at the venue of the church. It is similar to the Hindu festival conducted at Trichhur on the same days, with orchestra, pyrotechnics and lot of fan fare of pageants. Under the auspices of Archdiocesan, Great Pilgrimage or the 'Palayur Mahatheerthadanam' is conducted during the lenten season. This festivity is marked with attendance of thousands of devotees cutting across caste distinction actively participating with devotion, dedication and commitment. The significant places to visit the church's surrounding are the historical museum, Bottukulam, the Thaliyakulam, the replica of Chinna Malai, etc. A good number of believers, devotees and pilgrims who visit Christian places of significance in Kerala, never misses this particular church.
How to reach Palayur St Thomas Church
By road: Palayoor is located 28km away from Thrissur. It lies in Thrissur – Chavakad route, via Pavaratty on the State Highway.
By rail: The nearest railhead is situated at Guruvayur railway station that is just 3km away from here.
By air: The closest airhead is situated Nedumbasserry International Airport in Kochi that is 80 km away from here.