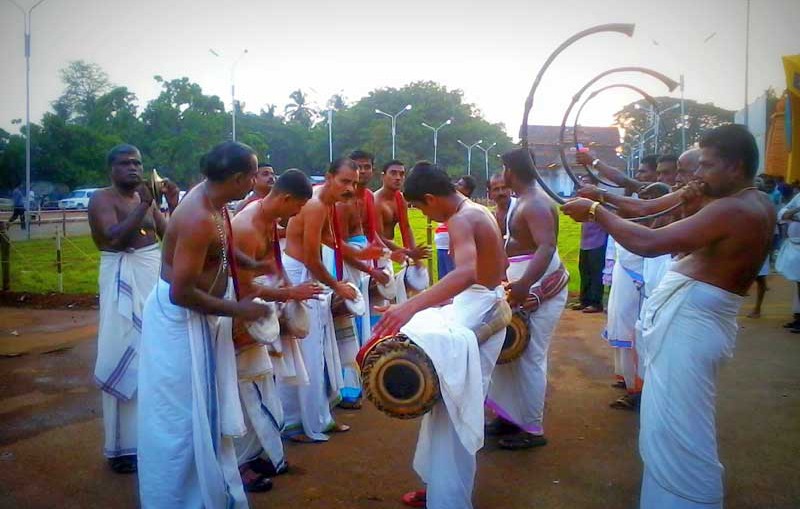 Thrissur Pooram Exhibition Photos
This picture is from 2014 Thrissur pooram exhibition inauguration. Pooram festival is on May 9 and the pooram festival flag hoisting is on May 3. The main pooram vedikkettu is on May 10th. Thrissur Pooram is a famous temple festival celebrates in Thrissur,Kerala and Thrissur Pooram is held at the Vadakkunnathan temple which  is at the heart of Thrissur.
Thrissur Pooram celebrates on the "pooram" day of "medam" month according to Malayalam calendar. On "pooram" day, the moon rises with the pooram star
Birth to Thrissur Pooram was given by Sakthan Thampuran (Raja Rama Varma) who was the Maharaja of Cochin during 1790 – 1805.  Before the Thrissur Pooram, the largest temple festival in Kerala was Arattupuzha pooram. Temples near Thrissur city were the regular participants of Arattupuzha pooram. Because of incessant rain, one day the participant temples were late for the Arattupuzha Pooram. Thus the pooram procession denied. The denial felt embarrassed and they went to the Sakthan Thampuran and told their story.
In 1798 Sakthan Thampuran unified ten temples situated around Vadakkunnathan temple and organized the celebration of Thrissur Pooram.  Sakthan Thampuran invited temples with their deities to Vadakkunnathan temple in Thrissur city.
Sakthan Thampuran grouped these temples into two groups, Western group and Eastern group. The western group temples are Thiruvambadi Sri Krishna temple, Kanimangalam Sastha temple, Laloor temple, Ayyanthole temple and Neithilakkavu temple. The Eastern group temples are Paramekkavu bagavathi temple, Karamukku temple, Chembukavu temple, Choorakottukavu temple and Panamukkampilly temple.