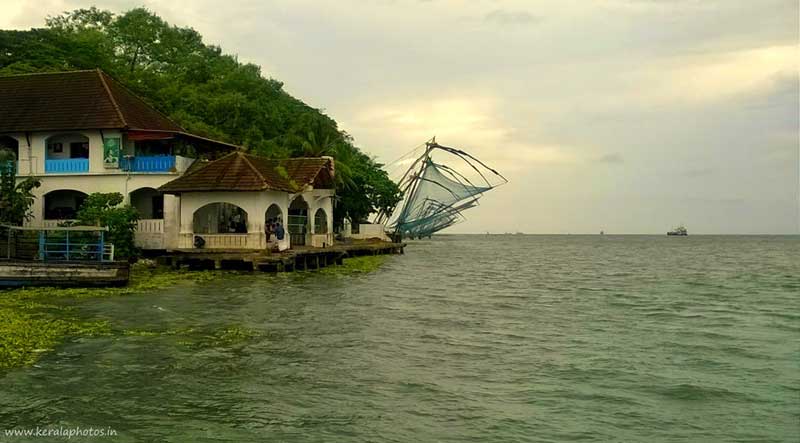 Fort Kochi Pictures – Kerala
A picture from Fort Kochi which is in Ernakulam district,Kerala.
Fort Kochi
Fort Kochi is a popular region in the Kochi city, in the state of Kerala, in south India. It is situated at the south-west of the mainland Kochi. It is surrounded by water-bound regions. It is locally known as West Kochi or Old Kochi among the locals. It is located adjacent to Mattancherry. In Malayalam language, Kochazhi means small estuary.
History of Fort Kochi
During the BC period, this region was covered by thick mangrove woods. It is believed strongly that Chinese arrived at this coast during the 14th century. The name Kochi or Co – Chin also indicates "like China". It is said that they introduced locals with Chinese net used for catching fish. This region was affected by tsunami of gigantic nature in 1341. On the banks of the Calvathy River is situated the Forte of Rajah or the Perumpadappu Swaroopam. In the pre-colonial Kerala, this place was a small fishing village during the Kingdom of Kochi. This place was granted to the Portuguese and was known as Fort Kochi in 1503. The fort was destroyed by Dutch. Later this place was taken over by British.
Places to explore in Fort Kochi
Chinese net – Within Fort Kochi and rest of the parts of Ernakulam, there are places where Chinese net is used for fishing by locals. This fishing method was introduced by the visiting Chinese's traders many centuries ago. It is considered one of the best methods known for fishing. Visitors can learn many things by observing this particular method of fishing.
Fort Kochi beach – It is one of the best beaches in the central coastal region of Kerala. It is also best place for witnessing the setting movements of the Sun in the Arabian Sea.
The Santa Cruz Cathedral Basilica – It is one of the eight Basilicas within India. It is regarded as one of the best heritage edifices of the state of Kerala. It is one of the most impressive and finest churches in the nation. It attracts a good number of foreign and domestic tourists and believers throughout the year. This place of worship is devotional spot and a centre of holistic importance. It was built by Portuguese.
Jewish Synagogue and Jew Town – These places are located at Mattancherry in Fort Kochi. The place of worship of Jews and its related town is the best examples of the Jews presence in Kochi from many centuries.
Bolghatty Palace – This palace is located at Bolghatty Island. There is ferry service from main land to reach this island. It is to be noted that the rural setting of this special island plus its palace has an interesting tale to unfold to its visitors with a lot of perfection.
Other places of interest are Dutch palace, Vasco house, St Frances church and many more.
By Road: There is good connectivity of bus service in this area that connects with rest of the places in Kochi and Ernakulam.
By Air: The nearest airport is located in Nadubbasery in the outskirt of the district.
By Rail: The nearest rail heads are located in Erankulam Junction and Ernakulam town.