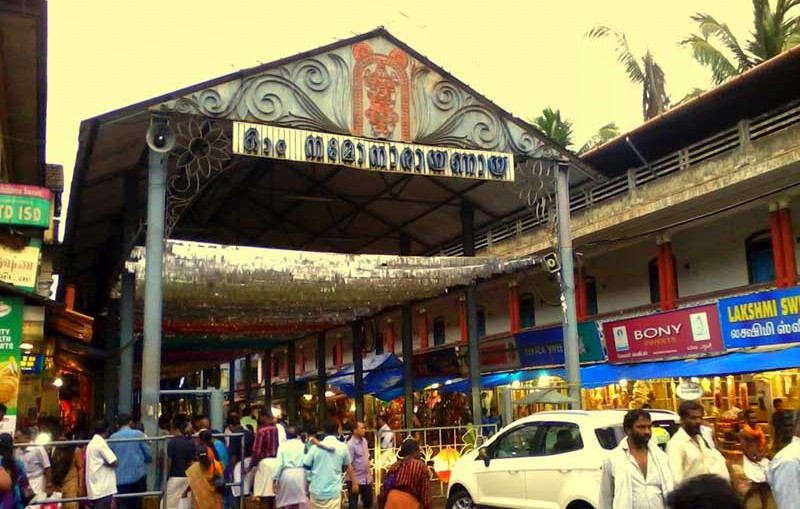 Guruvayur Temple Pictures – Kerala
A picture of Guruvayoor temple which is at Thrissur,Kerala
Guruvayur Temple – Thrissur
Guruvayur Temple is locally known as Guruvayur Sri Krishna Temple. It is located in the town of Guruvayur, in the district of Thrissur, in the state of Kerala, in Southern India. This temple is largely dedicated to Lord Krishna. It is one of the most sought after and significant places of dedicated and committed worship for Hindus of Kerala. It is rightly addressed as the holy abode of Lord Vishnu on Earth or Bhuloka Vaikunta. It is also popularly known as the Dwarka of south India.
History of Guruvayur Temple
As per the legends, in Narada Purana, there is mention regarding the origin of Guruvayoor Temple. According to this Purana, King Parikshit who belongs to Kuru dynasty, being the son of Abhimanyu and grandson of Arjuna, died immediately due to the bite of a fierce snake named Takshaka, after the serious curse by a sage. Janamejaya who was his son tried his level best in order to take revenge for this through conducting Sarpasatra which is a fierce yaga. In the ritual fire, several innocent snakes got immediately killed but Takshaka didn't die, mainly because he had already drunk Amrita. Therefore, Janamejaya got serious cursed through snakes plus he was largely affected with leprosy of severe nature. Later, he tried his level best to get cure but his condition didn't improve under any circumstance. Thus, both his mind and body got over the period of time much weaker. Sage Dattatreya successfully appeared before him plus requested him to wholeheartedly worship Lord Mahavishnu of Guruvayoor in order to get immediately cure of leprosy. The Sage also told regarding the greatness of the idol of Guruvayur.
Significance of Guruvayur temple
The Guruvayur Temple's presiding deity is Lord Vishnu, who is wholeheartedly worshipped in the form of Lord Krishna.
This image particularly represents the majestic form of Lord Vishnu as largely revealed to Lord Krishna's parents Devaki and Vasudeva around the time period of Lord Krishna's birth.
The idol comes with form of a four-armed standing Lord Krishna who is carrying a lotus with a Holy basil garland, the conch Panchajanya, the mace Kaumodaki and the discus Sudarshana Chakra.
The Cennas Nambudiris of this region are the hereditary tantris of this shrine.
This shrine is popularly known as "Dwarka of South India".
Guruvayur temple festivals
The significant festivals of Guruvayur temple are Ekadasi Festival, Nira Puthari, Vaishakha, Vishu, Kucheladinam, Utsavam or Annual Festival, Mandala Pooja, Saraswathy Pooja, Thiruvonam, Ashtami Rohini and Samkrama.
How to reach Guruvayur temple
By road: The west gate KSRTC bus station situated near Guruvayur temple is well connected with the city of Thrissur, Palakkad and Eranakulam.
By train: Thrissur and Guruvayur railway stations are well connected with express and passenger trains running within Kerala and rest of India.
By air: The Cochin International Airport is the nearest airport that is 80 km away from the temple. One can catch a taxi or auto for reaching the airport from Thrissur, Ernakulam town, Erankulam Junction and Guruvayur railway stations and bus stations of nearby major cities and town.