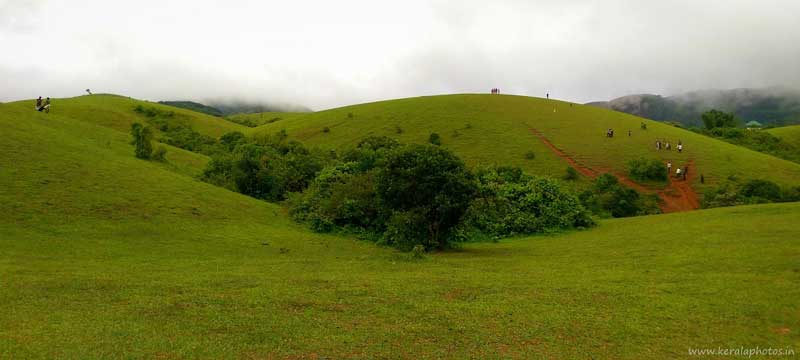 Vagamon Pictures – Kerala Destinations
A picture of Vagamon 'Motta Kunnu' (Hills) which is located in Idukki district of Kerala,India.
Vagamon Hills – Kerala
Vagamon is popular tourist hill station that is located in the district of Idukki, in the state of Kerala, in Southern India. It lies at an elevation of 3,600 ft or 1,100 m. The nearest town is situated at Elappara. It is situated in Kottayam-Idukki border. During summer midday, the place records the temperature between 10 and 23 °C. It has a cool climate that prevails throughout the year.
History of Vagamon
Vagamon was successfully discovered by the British who largely found this particular place perfectly ideal for tea plantations. On the other hand, they were immediately followed by Christian missionaries who rightly built their abode of service at place named Kurisumala in Vagamon. It is to be highly noted that National Geographic Traveler has wholeheartedly listed Vagamon on their official directory.
Place to explore in Vagamon:
Thangal Para – It is situated just 5km from Vagamon. It is a religious important place for Muslim community. A Durgah of a local Sufi saint named Husrath Sheikh Fariduddin Baba is located on this spot. The saint is believed to have reached this place about 800 years ago from Afghanistan. During the month of April, the festival of Uroos is conducted with offering of Ganjusakkar which is a sweet dish.
Kurisumala Ashram – This popular ashram is a monastery for Christian ascetics, who have strong belief in the Christianity and the Indian spiritual beliefs. It is worth wholeheartedly visiting this place in Vagamon. It is located at the heart of the Sahya Mountains.
Waterfalls – At this hill station, there are many waterfalls. Most of the waterfalls can be viewed from the road. There are places marked for bathing and recreation.
Wild Orchid – A wide variety of orchids is the blessing of Vagamon. One can spot the Orchidaceae during its season.
Tea Estate – There are several tea estates in this region but major players are MMJ Plantations and Pulikkanam Estate. One has to get permission from Estate office to visit these tea estates.
Mooppanpara – this place is a v-shaped canyon, one of the largely admired view points and popularly known as a suicide point. The beautiful outlook from the summit of the strenuous and hard climb is really amazing.
Murugan Hill: It is located near to Thangal Para. There is a Murugan temple which is devoted to Lord Muruga with attractive Stone Age carving.
Warning
Vagamon isn't the right place to visit during the rainy season as the rocks are very slippery and streams overflow. There are chance of coming in contact with lightning and thunder. It is always advised to move in group and don't be loner at this tourist spot.
How to reach Vagamon
By Road: Vegamon can be reached by local government and private bus services. It is about 65 km from Kottayam, 22 km from Kuttikanam, 45 km from Kumily, 33 km away from Palai, 39 km from Thodupuzha, 23 km from Erattupetta and 15 km from kottamala.
By Rail: The nearest railhead is located at Kottayam Railway station.
By Air: The nearest airport is situated at Cochin International Airport.