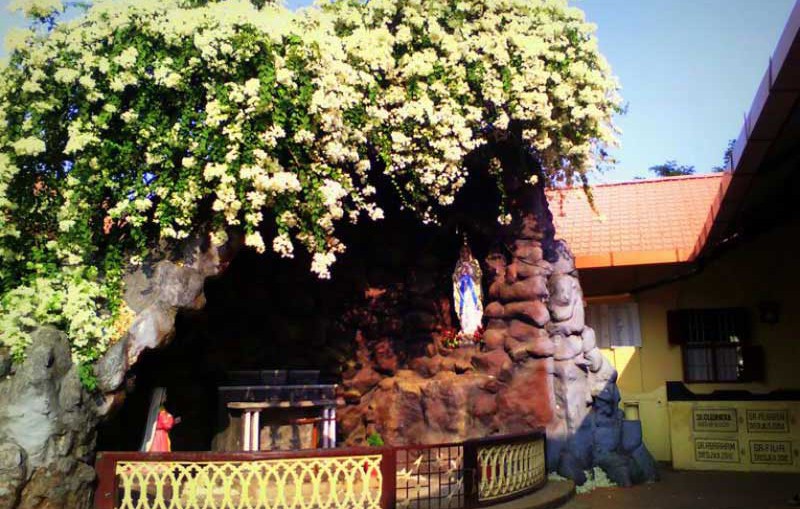 St Euphrasia Convent Pictures – Thrissur,Kerala
Saint Euphrasia (Euphrasiamma)
Marth Euphrasia Eluvathingal is popularly known as Evuprasiamma. She was born on 17th October in 1877 at Kattoor, in the then Kingdom of Cochin plus the present state of Kerala, in India. She died on 29th August in 1952 at Ollur, in the district of Thrissur, in Kerala, in India. She was venerated in Syro-Malabar Catholic Church. On 3rd December 2006, she was beatified as Rosa Eluvathingal by Mar Varkey Vithayathil at Ollur, in Thrissur. In Vatican City, on 23 November 2014, she was successfully canonised as a Saint by Pope Francis. It is to be noted that she was an Indian Carmelite nun belonging to the Syro-Malabar Church that is an Eastern Catholic Church plus largely a part of the Saint Thomas Christian community in the state of Kerala.
Early life of St. Euphrasia
On 17 October 1877, in a Syro-Malabar Catholic Nasrani family, she was born as Rosa Eluvathingal in the village named Kattoor, in Thrissur in Kerala. She was the eldest child of wealthy landowner named Cherpukaran Antony and his wife named Kunjethy. On 25 October 1877, she was baptised in Edathuruthy in Mother of Carmel Church. Her beloved mother was an ardent devout of Syrian Catholic, who wholeheartedly taught her regarding how to pray the rosary plus to actively participate in the Qurbana. Rosa at the age of nine, mentioned to have largely experienced personally an apparition of the Blessed Virgin Mary. This new experience led her in order to make a dedication and commitment to never indulge in marriage plus to commit her whole life to God. At ten, she joined a boarding school in 1866. After schooling, she joined the Sisters of the Mother of Carmel that strictly follow the Rule of the Third Order of the Discalced Carmelites. She faced strong opposition from her parents who wished to marry her to a wealth person of the same region. Later, they had to stand in fulfilling her wish to join the convent.
Religious life of Saint Euphrasiamma
Mar John Menachery, the initial native Bishop of the Syro-Malabar Catholic Archeparchy of Thrissur, largely established a Carmelite Convent in a successful manner in Ambazakad in 1897. He actually belonged to the Syro-Malabar Catholic Eparchy of Irinjalakuda. It was he who brought all five dedicated and committed inmates from Koonammavu who actually belonged to his diocese. Rosa was received the next day as a postulant. She took the name as Sister Euphrasia of the Sacred Heart of Jesus. On 10 January 1898, he was later admitted to the novitiate of the congregation. In the convent, her poor health condition threatened her stay, as the superiors regarded dismissing her with immediate effect. She was known in the convent and among her community for all the good work carried out by her. At the end part of her life, she become Mother Superior.
Miracles
The initial reported miracle was related curing an ailing carpenter from bone cancer.
The next reported miracle actually happened to a child who named Jewel and seven-year old from Aloor in Thrissur. In his neck, the child had a tumor that made it very difficult for him to successfully swallow anyfood. It is to be highly noted that doctors cited that this disease was incurable. His grandmother prayed to Euphrasia and the tumor disappeared plus doctors were surprised.