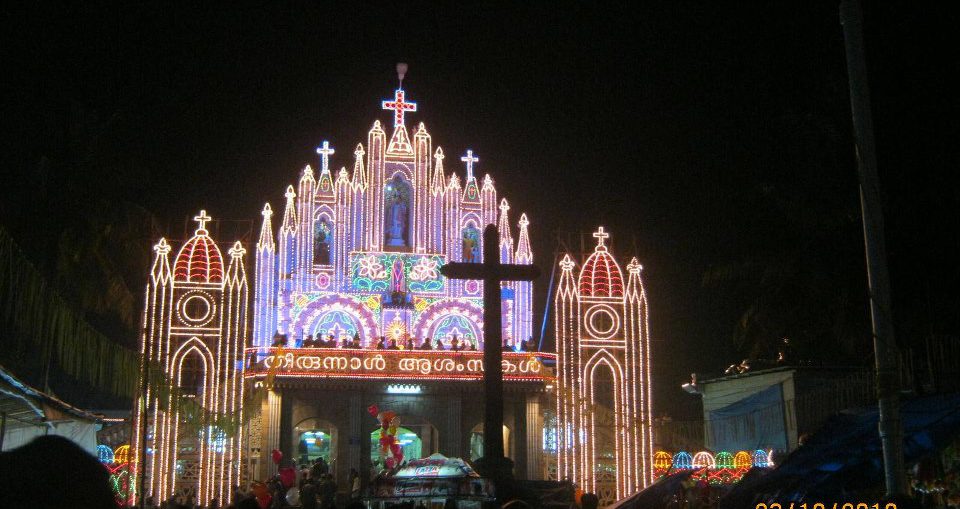 St. Antony's Forane Church – at ollur
St. Antony's Forane Church is located at a place named Ollur, in the district of Thrissur, in the state of Kerala, in Southern India. It is affiliated with Syro-Malabar Catholic Church. This particular church was consecrated in 1718. It is under the leadership of Metropolitan Archbishop of Thrissur. It comes with Neo-Gothic Revival Architectural pattern and style. Its direction of façade is west. The materials used in its making are sand, cement, gravel, mortar and steel. As per the rough figures there are approximately 4,000 Christian families in the local church community. In Ollur, there is a large presence of Christian people so this place is blessed with educational, religious, social-service, medical and secular institution and organizations. It is also known as Small Rome or Chinna Roma. On a hill-top, the church is constructed in a successful manner. The church is largely surrounded by a strong protective compound wall that is locally known as Aana Mathil or Elephant Wall. The church has 18 churches directly under its jurisdiction.
History of Ollur St. Antony's Forane Church
Previously, in Puzuvial church, the Ollur Christian population used to attend Mass. One day, a woman of the Chiramel family unfortunately missed Mass in that church. She was totally disappointed so told her son and requested him to build a church in Ollur. Later, land was donated by Malaekal Karthakal and a new church came into existence in Ollur. As per record, the initial mass was held in a temporary church in 1718. on June 13, 1722, the church was blessed by the Mar Antony Pimentel with Johann Ernst Hanxleden.
Tipu Sultan set fire to church in 1790, but just the facade was burnt. In 1972, Thullal or the devil dancing was banned by Mar Joseph Kundukulam who was the first Archbishop of Thrissur. It is to be highly noted that beatified people such as Maria Theresa Chiramel, Kuriakose Elias Chavara and Euphrasia Eluvathingal have visited plus stayed in this church. On November 24, 1951, India's first Prime Minister Jawaharlal Nehru wholeheartedly visited the church. It is to be remembered that Vicar Monsignor Paul Kakkassery largely welcomed Nehru with a large candle lighted.
St. Antony's Forane Church Festivals
The significant festival of Ollur church is the Feast of Saint Raphael, Ollur, the Archangel that falls on October 23 plus 24 of each year. In 1837, the festival was started in a grand manner. On the other hand, in the month of January another festival is held in honor of Saint Sebastian. It is the second important festival in the parish. Nearly 73 feasts and festivals are grandly celebrated in the calendar year. People from within Kerala and abroad visit this church on all religious, festive and auspicious days with devotion, dedication and commitment.
How to reach Ollur St. Antony's Forane Church
By Road: Ollur is well liked by road with towns and cities of Kerala.  It lies on the National Highway no: 47. There is good number of private and government bus services to this place.
By Rail: The nearest railhead is located at Ollur railway station.
By Air: The closest airhead is situated at Kochi International Airport.