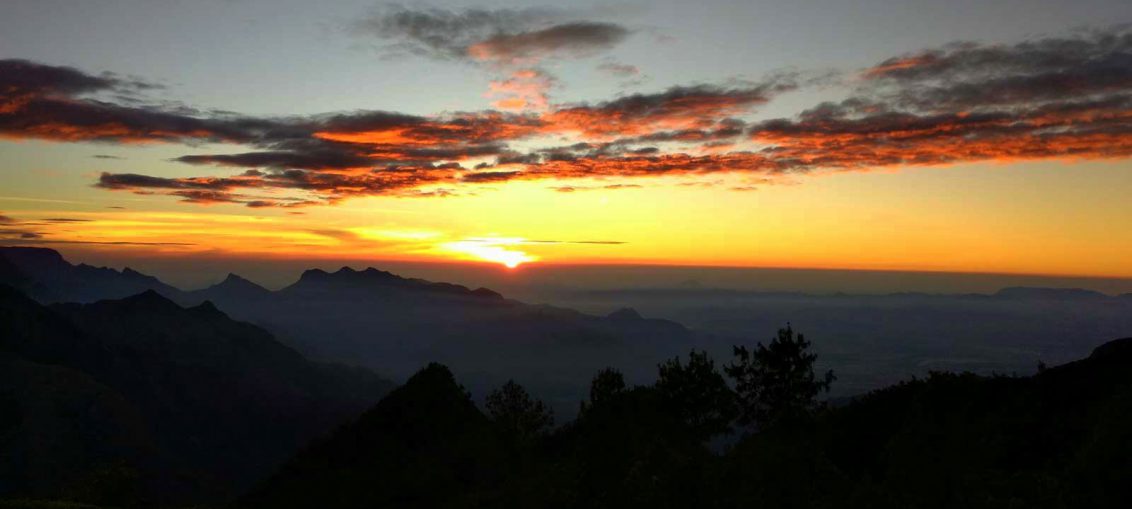 A picture of Meesapulimala which is in Idukki, Kerala.
Image Courtesy: Christo Jose
Meesapulimala 
Meesapulimala is the 3rd highest mountain peak of Western Ghats or Sahyadri ranges. It is present in the scenic hill station of Idukki (Kerala) bordering Tamil Nadu state. Meesapulimala coordinates are 10°05′51″ North and 77°12′12″ East. Its peak is 8842ft (2695m) above the mean sea level. This peak is most important to visit when you are in Munnar tour. This is a tourist friendly place and the best time to visit is from December to May. The Malayalam is the main language of the local people and they can speak Tamil, English and Hindi too. This is a local picnic spot and weekend getaway place for people from neighboring district like Cochin and Kottayam. You can also find many international tourists visiting this place throughout the year for yoga, Ayurveda and nature tour.
Standing atop this mountain peak is a breathtaking view. You can see the plain-lands of Tamil Nadu on its eastern side and hill ranges descending towards west. The clouds floating away like heaven surrounding this peak are the best for photography. Taking 360-degree video is possible to cover all surrounding areas of this hill station. The Meesapulimala peak is easy to access by walk. There are local guides to assist you to reach here from the down village. It is advisable to reach here before sunrise to see fog, mist and clouds touching you and with sunrise, you can see the exotic beauty of Western Ghats mountain ranges.
Activities to do in Meesapulimala
Mountain trekking from the nearby village is the best way to reach Meesapulimala.
The tourists can stay in tent camping on its peak in day hours.
You can take photography/videos from high altitude of Meesapulimala peak.
Pothamedu
It is an exotic location to see tee plantation in Munnar. Apart from tea, there are coffee estate and cardamom plantations to see along these high altitude mountain ranges. This place is one of the rare landscapes to see in tea estate. It soothes your eyes with greenery along with mist and fog. It is just 6km away from Munnar.
Eravikulam National Park
This park is in Rajamala ranges and the (Annaimudi), which is the highest peak of Western Ghats, is in this park. It has one of the rare Nilgiri Tahr Goat along with other flora and fauna. It is the place to see evergreen tropical rain forest. This place itself is an exotic location with lush grassland, mountains and forest at an altitude of 2695m. Tourists are not permit here during monsoon rains (June to November). This national park is just 15 km away from Munnar.
 How to reach Meesapulimala:
By Air:
The nearest Airport is Cochin International Airport with distance of 107 Km
Calicut Airport is 255 Km
Trivandrum airport is 286 Km
By Train:
The Aluva junction is the 110 km
The Madurai junction is 135 Km for tourist coming from Tamil Nadu side.
By Road:
Distance from Munnar to Meesapulimala is 40 km.
Distance from Cochin to Munnar is 127 Km.
Distance from State capital Trivandrum is 280 Km.