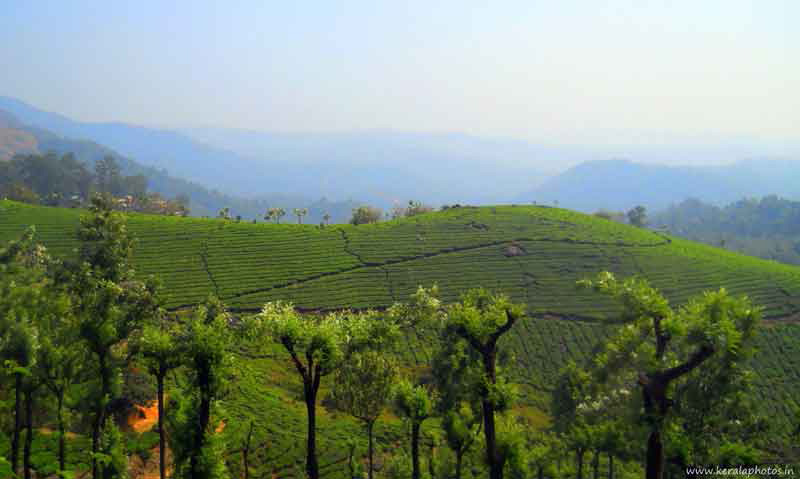 Trip to Munnar, Idukki
It was just a usual boring Thursday evening where the work stress was killing me inside but the only solace was just one more day to go for the weekend breaks to arrive. Knowing that there's nothing much to do in that weekend I was leaving from the office for the day when I received a call from my best buddy Rohit.
It was then I came to know my old mad gang was planning for a trip to Munnar, a place that I haven't never been before.
An immediate Yes was my reply for his invitation to join them. Not meeting my old bunch of idiots and not to experience the thrill of a road trip.. Sorry boss that's not gonna happen! 😉
3 days in our hand, just to be the old us! Saying of gang.. don't get any Idea of that were a group with more than 6 people.. Its just the four of us, all working in various parts of Ernakulam.  Everyone was having issues in taking a day off as it was all of a sudden plan. But all managed to get one saying some or the other emergency reasons! Lol
The instructions for the trip were already given by the Mastermind behind all this, Rohit. As per his orders we were all to meet at one place on Friday 8:30; Aluva. It's a four – four and half hour journey by road. Rohit had already been to that place before, so he was very keen on our trip plans that we don't miss any important place in these 3 days. So he had already shared his destination spots that we're gonna hit as the remaining three of us were newbies for that place.
Munnar – The Kashmir of south India, a hill station and a town located in Idukki district of the southwestern Indian state , Kerala .
The Cheeyapara waterfalls, Our first destination:
First tourist spot that comes when you reach Idukki. To be exact,  44 km before Munnar town. Its on the Kochi – Madurai Highway, between Neriamangalaam and Adimali.  What grabbed my eyes there was the way how water cascaded through the rocks. Although its not a huge waterfall,  it's a great spot to take a break from your continues ride and take pictures on your way to Munnar. There are few shops where you can buy hats, and toys. Parking our vehicle there was a minor issue that we faced as there no proper space allotted. But luckily the roads near waterfall area is wider therefore that's the only option we were left to keep our vehicles. Many trekking lovers also hit this place. But with a heavy heart I had to make my self clear that we were not lucky this time to experience that fun as we were in short of time and we have much more to cover up in the next two and half days left for us.
We reached The Munnar Town. Munnar town is better option for you to stay as there are lots of good hotels for you reside on your trip and . But we traveled 35 kms ahead of the town as our main idea of this trip was to experience the Kolukkumalai Jeep safari and the night camping in meeshapulimala.
Chinnakanal, Our second destination:
This is a small village 35km far from Munnar Town. This place is well known for the waterfalls in that area. Interestingly Chinnakanal is also known as Power House Waterfalls.  Anayirankal Dam, Mathikettan National Park , Anayirangal Dam Reservoir where the major points of interest here.  Rohit had planned our accommodation here in a home stay considering the convenience of our travel. We finally got the room keys. Ahh.. Time for a little rest! I would be lying if I say that I'm completely tired of the continuous bike ride. But filling your hungry stomach and a little rest for your body is also very much essential for you to enjoy the trip on a good note! The realization that we are at last halfway to why we are actually here itself were bringing an unknown joy inside.
Evening we had a stroll though the street shops, a small hunt to find anything that we can buy as a sovereign of Munnar. But we didn't find anything much there apart form some home made chocolates. Like every other tourists we also bought our parcels.
We returned back to our respective rooms as we had to leave for Kollukkumalai the next early morning.
Kolukkumalai, Our third destination:
Bordering Idukki and Tamil Nadu, on the high slopes of meeshapulimala, we have the estates with the highest grown tea in the world! Though its really hard and bone breaking to reach atop of kolukkummalai , you will not regret the view that you get  there. It was the most scenic drive of my life. Its an approximate 2 hour climb of jeep which throws you up down right left; almost 80% of the trip. Even though our designated driver was a pro in driving through this bumpy road, there was a point we all got scared, when a heard of cows came in between the road out of the blue but luckily our driver managed to take the steer. Moving further we reached a place we have to keep our jeep aside and walk further to a yet another less visiting tourist spot in that hill top; Simhappara!
Simhapara, Our fourth Destination:
Its only after a recent Malayalam Movie "Ann Maria Kalippilaanu" that these places in Munnar became a point of attraction, especially the youngsters who prefer adventure. It's a 2 km walk from the place where left our jeep, the centre point of kolukkumalai which connects both meeshapulimalai and kolukkumalai. The rock here looks like lion, in his majestic attire and that's how that rock got its name Simhapara. Amidst of the early morning fog that you see at the hill top, it was truly a mind blowing sight to see the sun rays pass through a small hole near the assumed lion's eye region. For a second you'll be lost by the beauty of that majestic lion sitting in front of you with sparkly eyes!
Meeshapulimala, This fifth spot:
It's the highest peak in the Western Ghats of Idukki district. We started our long trek from the base the first hill. From here the mesmerising journey starts. The trail begins to get a little steep, just about 10 minutes from start. In no time you would be at the peak of the first of the eight hills. During the walk our guide passed a witty comment stating that it was good that there are no girls in our set. He came up with an immediate explanation as there would be a monkey attack on girls who trek on this particular route and there are no girls with us we are safe. But he also stated that they do take extra care if there's a female member in the group from the wild attacks.
From the cloud–kissed mountain tops, we get to see the breathtaking view of Munnar and Surianelli towns. While descending the hill, we had to cross the beautiful Anayairankal Lake. We were lucky enough to see the wildlife of the Shola forest at its best on the seventh peak. At last we were at the eighth and the final peak, the Meeshapulimala peak, even though tired you would feel refreshed and excited to see the breathtaking views.
At the top Meeshapulimala we have the camping facility arranged. It was as if we were standing in heaven! We got an unforgettable night to spend under the stars on that top of the hills.
The next day we climbed down the hill and reached back to our respective rooms by afternoon. Took some time to get freshen up and with a heavy heat we drove back to our busy life. It was really an amazing weekend trip planned by my friend. He had promised us on our way back that there would be more to our meetings form here on. From that day we are all eagerly waiting for his next surprise call!