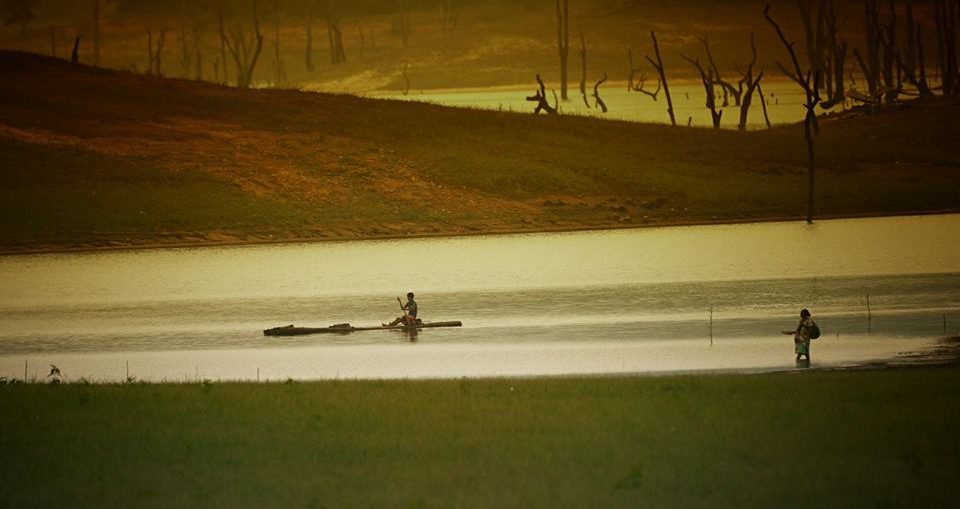 Image Courtesy: Sarath Mohan M G, Resmy M Nair, Sreedevi Thekkedath, Ceinu Mathews?, John Alex
Thekkady is one of the most beautiful tourist spot in Kerala. Thekkady lies in the Kerala and Tamil Nadu border. It is located in the idukki district of Kerala, which is the state in india.  . And only 145 km distance from Cochin airport to Thekkady. Thekkady is famous for its dense evergreen, semi evergreen, deciduous forests and savanna grass lands.  Visitors coming to thekkady are focused to  nearby wildlife sanctuary. Santuary named "Periyar Wildlife Sanctuary". Sanctuary spread across 777 km2.  Sanctuary is like home to all animals such as elephants, sambar, tiger, gaur, lion-tailed macaques and Nilgiri langurs. The wild life sanctuary later declared as tiger reservepark. To make more beautiful, an artificial lake formed by the mullaperiyar dam across the periyar river.  Herds of elephants,deer and bison that came down to drink in the lake. It's really awesome sight which you ever see before.. Spices like black pepper, cardamom, cinnamon, nutmeg, nutmace, ginger and clove are the highlight of thekkady.  Trekking, boating and jeep safari makes more interesting
Boating
Thekkady brings the cool breeze to everyone.  Thekkady is the perfect place to see the wildlife animals very closely. There is an opportunity to take good photos of animals as well as scenaries.  Boating in the lake, is quite thrilling experience in everyone's life. Boating is completely secure -drive on the water.  People should be strictly wear life jackets while boating.  All of us were threatened about boat crash incidence. Be aware of Boating and take necessary steps to follow. Every tourist guides prefer boating at morning. The first activity in thekkady is boating itself. The other entertainment in lake is bathing, drinking and resting. It's really fun to see that elephants play with kids.  There are daily 5 trips. And major timings are shown below:
Timings are 7 am, 9.30 am, 11.30 am, 2 pm and 4 pm.
Jeep safari
Jeep safari covers the entire dense green vegetation and thick forests. Cascading waterfalls and spice plantations beauty are cannot be expressed using words. It is really amazing journey.  Make sure that your trip more interesting.  Sightseeing in jeep is a rare experience. Enjoy well and make your trip so funny.
Bamboo rafting
Rafting programmes were scheduled through some of the richest dense forests. These forests are rich in bird life and animals like giant squirrel and nilgiri langur. The rafting can be extent up to two to three hours. An armed guard and 4 guides may accompany with 10 tourists. Tea, snacks and packed lunch will be served in route.
Elephant ride
Apart to this visit, there is a park with elephants including half an hour ride. Elephant bath, timber dragging, feeding, elephant shower etc are more interesting. Above these all photo session makes our heart fulfilled. Altogether more than one hour will spend there.
Nature walk
Thekkady has many nature trails from the trekking routes. It's almost 4 to 5 kilometers in length. This is the best way to watch birds, butterflies and other wildlife species which are very rare species in world.