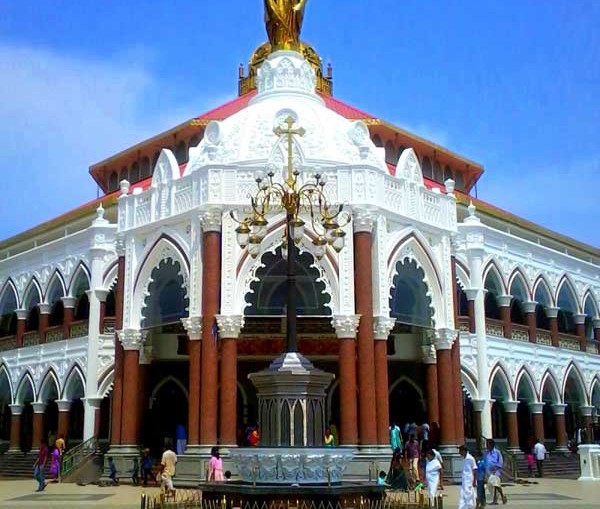 Edapally Church
The Edapally church comes with its official name as St. George Syro-Malabar Catholic Forane Church. The word 'Palli' means church in native Malayalam language.  This church is locally and popularly known as "Edapally Palli". The historic name of this church is Edapally Mar Geevarghese Sahada Palli. This is one of the oldest churches, which was built in 594 AD. It is built based on for its Kerala and European architectural style. This particular church is one of the major tourist attractions among domestic and foreign devotees, pilgrims, tourists and visitors. This is also a major pilgrim place for Christian faith particularly plus other religious faith and believe. In all seasons, Tourists can visit this church.
 St. George Syro-Malabar Catholic Forane Church
The old church was built in 594 AD is still present here intact. It is at present converted as museum. There is new church built adjacent to the old church. It is an architectural marvel. It is a huge church with a lot of difference from the normal churches of Southern India. On the top building, it has a cylindrical dome with big size cross fixed on it. In the interior side, visitors can get the feel of a Roman church. There are several glass art that depicts the significant events of Christ. There are also beautiful and attractive art and sculpture that has depictions of Virgin Marry. The old church is a museum to witness and understand the original art and crafts of 6th century AD. The moment you enter the church, you will feel divine with candle lit light and colorful lights emitting inside the church from glass art. The church courtyard perfectly holds an ancient well plus the all religious devotees strongly believes that the water in the deep well has curative powers with lot of perfection. The well water is collected by devotes to home and used as a healing water that is wholeheartedly blessed by almighty.
The nine-day festival is held in a grand and religious manner. This annual festival takes place in between the month of April and May of every year. On the festival occasion, the church offers free feats to its visitors and devotees. The popular activities of this particular church are St.George's Charitable Fund, St.Joseph's Maranananthara Sahaya Fund,  Thirubalaskyam, Cherupushpa Mission League, Marian Sodality and Darsana Samooham. The other significant churches in its neighborhoods are Mar Hormiz Syro-Malabar Catholic Church located in Angamaly and Kottakkavu Mar Thoma Syro-Malabar Pilgrim Church based at North Paravur.
How to Reach Edapally  St. George Forane Church
By Air
The Cochin International airport is just 23km away from Edapally.
By Train
The Edapally has local railway station. The Aluva Junction, Ernakulum town  and Ernakulam  North  Railway stations  are the major rail way station to alight for Edapally church, if you are coming through express and passenger trains. The distance from Aluva and Ernakulum junction to Edapally Church is nearly 10km.
By Road
The NH 544 passes through Edapally, making it more convenient to connect with all major places via road to by-pass junction of Edapally. It is just 10km away from the heart of Cochin.