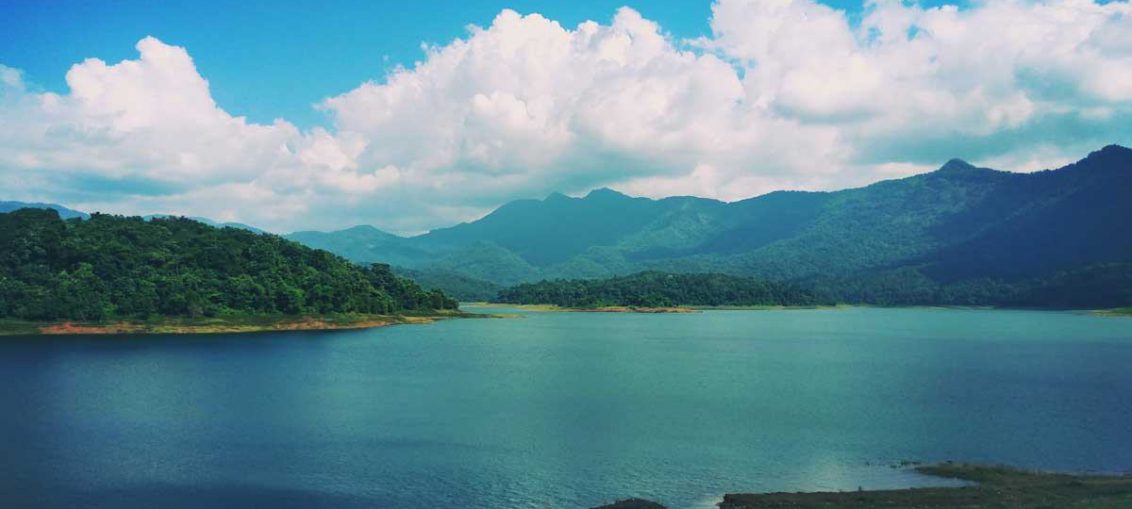 A picture of Chimmini Dam which is in Thrissur District, Kerala.
Image Courtesy : Jesvin Paul
Chimmony Dam – Thrissur Destinations
The Chimmony Dam in Thrissur is a scenic place to take nature tour and wild life tour in Kerala. When you take Chimmony Dam tour, you are also inside the Chimmony Wildlife Sanctuary. Either, every tourist coming here can enjoy the Chimmony dam and sanctuary at one place. This is a tourist friendly place and there is no special season to visit this dam. This dam is a local picnic spot for its locals. This dam site is located at Echippara village in Mukundapuram taluk of Thrissur District, Kerala.
The Chimmony Dam is on the backdrop of Nelliyampathi Hills. This is a unique exotic location of the Western Ghats with forest and water bodies. The Punda peak (1116 m) is visible from this dam. The monsoon rain (June to October) makes this water catchment areas with plenty of water. This dam is constructed by blocking Chimmony River, which is a tributary of Karuvannur River flowing through Thrissur District. Tourist can relax in the vicinity of dam water, cool breeze, fresh air and scenic backdrop of the Western Ghats mountain ranges. You can see the beautiful forest cover areas of Chimmony Wildlife Sanctuary on the back end of this dam. This dam has very good pathway and other side of the dam; you can have a picturesque village. If you come in the early morning, you can have the glimpse of sunrise from the Shyadhri mountain ranges of Thrissur from the top of this dam. The Chimmony Dam visiting time to public and tourists are in daytime only. Chimmony Dam camping and dam trekking is possible in the day hours only.
Chimmony Wildlife Sanctuary
The Chimmony Wildlife Sanctuary is part of Peechi Wild Life Division. It is located in western side of Nelliyampathi Hills (Western Ghats) in Mukundapuram taluk, Thrissur, Kerala. The tourist and adventure seekers must obtain prior permission from Peechi Wild Life Division for forest trekking and camping. You can see herds of elephant rearing near the Chimmony Riverside along the forest area. There are much-endangered species (flora and fauna) to see in this forest. It is advisable to trek inside this forest with local guide and forest guards. The Malaya tribe's lives in these areas and it will be amazing to see them in their tribal attributes. They are friendly people and guide you to deep forest trekking. When you reach the forest area, the Chimmony dam water will be visible like sea from higher areas of this protected forest.
How to Reach
By Air
The Cochin International airport is the nearest one to reach Chimmony Dam, which is 50Km away.
By Train
The Divine Nagar railway station is just 23km, however, not all major express train stop here. The nearest major railway station to alight for Chimmony Dam is Thrissur Junction, which is 32km away.
By Road
The NH 47 enroots Thrissur District enables good connectivity with rest of the places in India. From Thrissur, the Chimmony Dam is just 24km away. Locally, there are Kerala transport buses, private bus; taxi and auto rickshaw available to reach Chimmony Dam site.